See on Scoop.it – Patient Information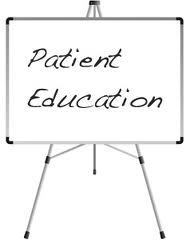 An online article described patient education as a monster, monster problem because patients don't understand their doctors, which leads to preventable health care expenses.
Here's what the article said:
"Patient education is a monster, monster problem," said Matt Berry, Orca Health's founder and CEO.
According to company statistics, more than half of all visits to a doctor's office don't result in optimal care because the patient doesn't understand what the doctor is saying. This problem, called "low health literacy," costs the nation as much as $238 billion a year, with $73 billion attributed to hospital stays caused by a patient not understanding or adhering to a doctor's instructions.
OK, I agree.
Then the article proposed provider-prescribed apps as a solution to this monster problem.
Huh?
I love apps. But really. This is an example of a solution looking for a problem.
The problem is that patients don't understand their doctors. There's a simple, effective, low-tech solution to this, based on evidence:
Ask the patient to teach back to you his or her understanding of what you just said. If the patient did not understand, explain it a different way, until the patient can understand it.
This is immediately available for use by all health care providers.
You want more than that? Encourage patients to take notes or record the conversation so they don't have to memorize everything.
Monster, monster problem solved!
Read at: http://notimetoteach.com/2014/patient-education-is-a-monster-monster-problem/
See on notimetoteach.com